Strawberries are unarguably one of the most delicious spring (and summer) fruits out there. These juicy, sweet, and red-colored tiny fruits have got all the nutrients we need to stay healthy. Strawberry is a quintessential part of smoothies and desserts.
Apart from their undeniable health benefits, did you know that strawberries can also prove to be a great addition to your skincare regime?
These tiny fruits are loaded with essential vitamins, nutrients, and antioxidants. This surprisingly makes them a powerhouse of a fruit that can do wonders for your skin.
Scroll down to explore some of the best-known benefits of strawberry extract for the skin and why it is considered an essential ingredient for your daily skincare routine.
8 Benefits of Strawberries for Skin
Strawberry extract is a multitasking ingredient for skincare products that can exert impressive benefits on your skin.
1. Can Fight Acne
Strawberries are rich in vitamin C, salicylic acid, and antioxidants. All of these nutrients help fight acne by shedding away dead skin cells.
Strawberry extract, if incorporated into your regular skin-care regime, can also unclog pores, eliminate excess oil and purify your skin. In addition to that, it is a great ingredient for skin-tightening as well.
2. Brighten the Skin Complexion
As a potent source of vitamin C, polyphenols, and alpha hydroxy acids, strawberry extract acts as a key factor for improving collagen production, which as a result, brightens your skin. It also helps replenish the damaged skin, providing you with a radiant complexion.
3. Reduce UV Damage
Strawberry extract protects the skin against the harmful rays of the sun. Its antioxidant properties can also reverse the effects caused by free radicals and UV rays.
This ingredient, if added to the daily skin-care regime, can also prevent the skin from getting hurt any further.
4. Fade Hyperpigmentation & Dark Spots
The salicylic acid in strawberries significantly fades away blemishes, dark spots, and hyperpigmentation, resulting in brightened skin. Strawberries also act as a natural exfoliator and slough dead skin cells.
5. Heal Chapped Lips
Most of the lip balms are strawberry flavored; have you ever noticed why? This is because it can moisturize and nourish chapped and damaged lips.
The antioxidants and salicylic acid present in strawberry extract help exfoliate your lips' dead skin cells while moisturizing and hydrating them.
6. Soothe Puffy Eyes
Strawberries are the ultimate solution for puffy eyes as they are high in astringent properties. This lets strawberries depuff and soothe your under eyes, making them look much brighter.
7. Contain Anti-Aging Properties
Strawberries are packed with powerful polyphenols and antioxidants, which defend the skin against the signs of premature aging. They are also rich in alpha hydroxy acids (AHA) and ellagic acids that help exfoliate and nourish your skin.
8. Control Excessive Oil
The presence of excessive oil on your skin can lead to the development of acne and skin breakouts. However, strawberries, being acidic in nature, effectively control your skin's excess sebum production and maintain the oil levels.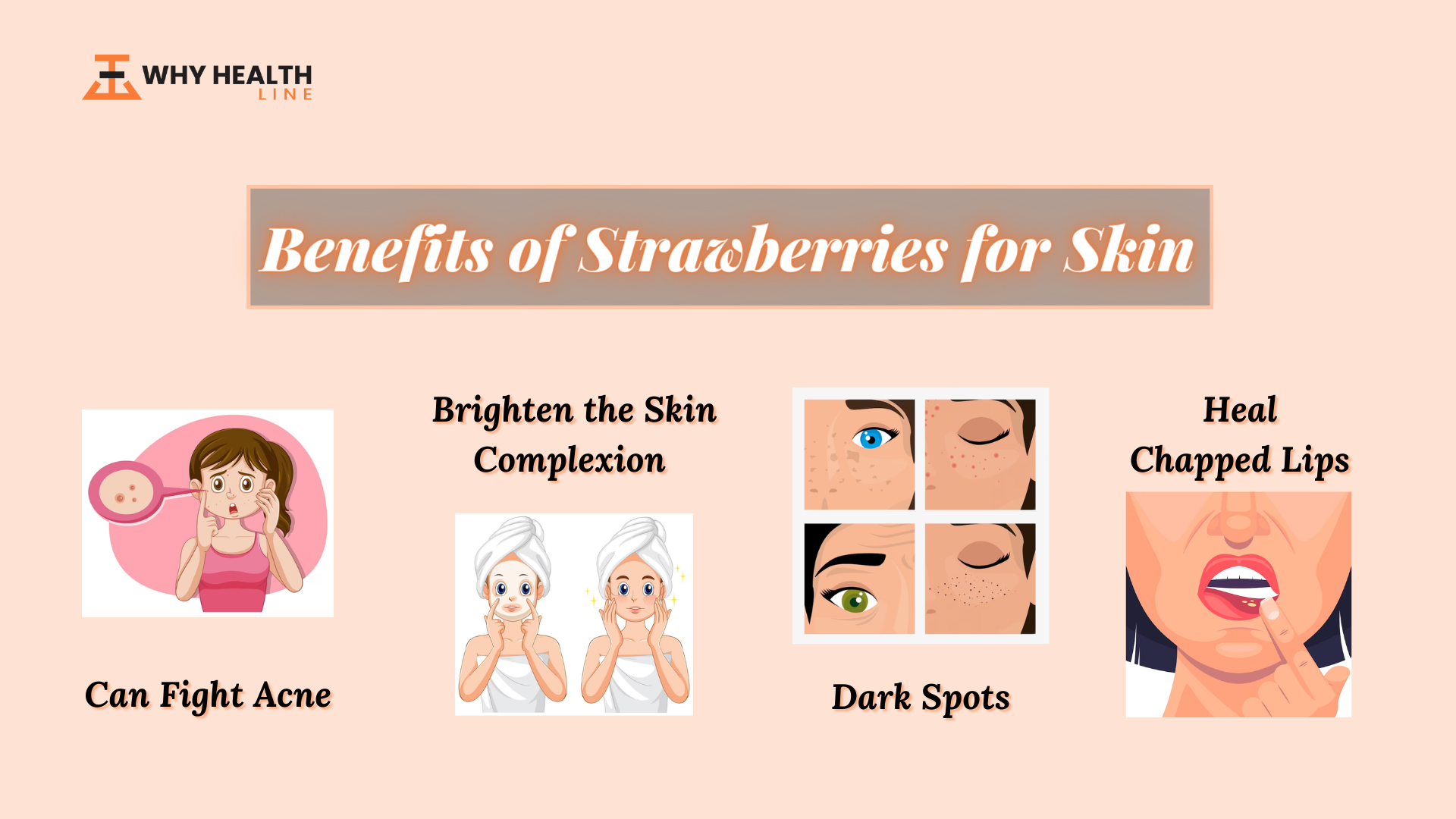 Some Face Packs Using Strawberries
Irrespective of the season, skin problems usually stick around. In such cases, strawberry masks prove to be a lifesaver that heals your skin in every way possible.
There is a wide variety of strawberry face masks that you can make at home, some of which are:
Strawberry and Lime Face Mask
The strawberry and lime face mask helps lighten the tan and get rid of the blemishes or pigmentation marks from your skin. In order to make it, get some strawberries, make their extract, and mix it with a tablespoon of lime juice.
Spread this mask properly all over your face and leave it for 10 to 15 minutes. Then wash it with lukewarm water.
Strawberries and Fresh Cream Mask
Strawberries and fresh cream masks help reduce acne and are usually recommended for people having dry skin in winter. All you have to do is take some strawberries, make their puree, and then mix them with fresh cream. 
Those with oily skin can mix the strawberry puree with yogurt instead and then add a tablespoon of honey. Apply it on your face for 15 to 20 minutes and then remove it with the help of water.
Strawberry Scrub
Strawberry scrub proves to be extremely beneficial to cure acne marks and acts as an exfoliating agent. To make it, take a bowl, add powdered strawberries, and whisk them with sugar. Then, add a few drops of olive oil and lime essential oil and mix it well. 
You can also add a few tablespoons of glycerine to this mixture if you want your scrub to be more moist. Rub this scrub over your face for 5 to 10 minutes, then wash it with water.
Does It Work?
The ingredients present in strawberry extracts can undoubtedly work wonders for your skin. They reduce dark spots and fade away hyperpigmentation.
Their antioxidant properties also form a strong photoprotective effect on your skin, protecting it from harmful UV rays. 
By including strawberry extract in your skin-care routine, you can also prevent wrinkles and fine lines, and make your skin look more supple, healthier, and youthful.
Key Takeaway
Strawberries, in addition to having multiple health benefits, also prove to be extremely useful for your skin.
By finding ways to incorporate this tiny juicy fruit into your skin-care products, you can undeniably achieve replenished and younger-looking skin.
FAQs:
Does Strawberry Make Your Skin Glow?
Regularly applying strawberry face masks on your skin can give you a glowing complexion by minimizing the appearance of dark spots and blemishes.
Strawberries are a great exfoliating agent that clears dead skin cells, making your skin refreshing and radiant.
Is It OK to Apply Strawberries on Your Face Daily?
You can apply the strawberry extract to your face every day to benefit from its astringent, anti-inflammatory, and antioxidant properties.
How Many Strawberries Should I Eat Per Day?
It is typically recommended that people should eat a serving of 8 strawberries a day. Clinical research has demonstrated that this recommendation can have significant benefits on your overall health, including improved cardiovascular, and reduced risk of diabetes and cancer.